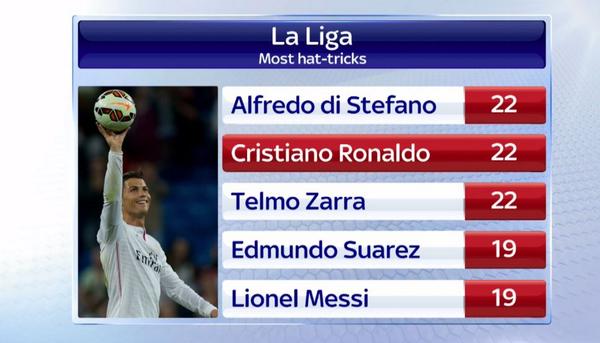 Real Madrid News Now :
Record Portuguese star Cristiano Ronaldo, Real Madrid player in Athletic Bilbao's goal "hat-trick" him No. 22 in La Liga, the equivalent figure recorded in the name of two of the legends of Spanish football, Alfredo Di Stefano, former honorary president of the Royal Club, and Telmo Zarra.
During the six rounds played this season in La Liga, out of seven appearances team, Cristiano scored 13 goals (top scorer), and in three encounters scored a hat-trick or more.
Has recorded "hat-trick" against Athletic Bilbao on Sunday evening, at the meeting, which ended in favor of Real Madrid with five clean, and the last goal in Deportivo La Coruna, and "super-trick" in the court of chi.
And the rate of Cristiano Ronaldo scoring 2.1 goals per game, and his goals in the seven rounds of the 13 achieved the best record of the player in the history of the club.
In the five years he spent in the ranks of Real Madrid, scored "Don" 22 "hat-trick", the equivalent figure achieved by Di Stefano and Zara in 11 seasons.
Real Madrid News Now